Gourd Banjo
Finish II
[Home]
[Prev]
[Next]
When I last left my banjo I had planed down the neck and stained it. Now I must refinish the fingerboard. Here is it on the bench, ready to go.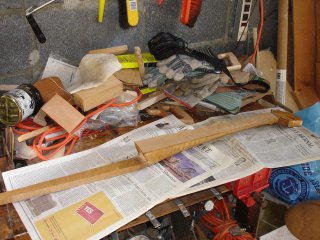 After one coat of Tru-Oil it looks like this.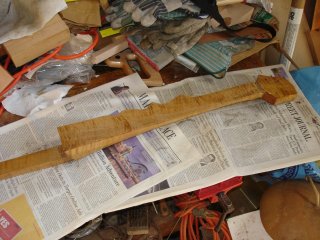 It's looking good. While the finish was drying, I notched the new bridge. I marked off the location of the string notches using the old bridge as a template.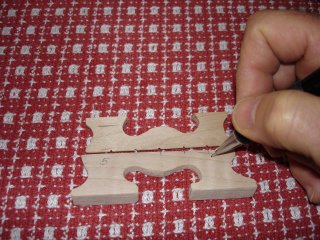 I stuck the bridge in my vise and notched the locations using my triangular needle file.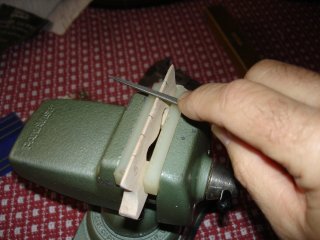 After starting the notches with the file I finished them off using my shop knife. Here is the front of the bridge after I have finished.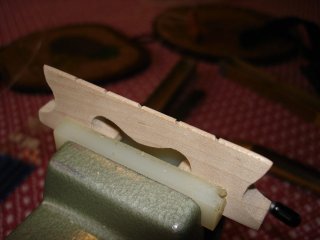 Here is the back of the bridge. If you look closely you can see that I have carved the notches on the outside ends of the bridge to allow the strings to slant toward the tailpiece without coming out of the notch.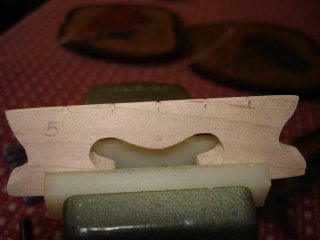 I went back to the neck and put on another coat. I did not take another photo because it doesn't look much different. I also touched up some parts of the finish that got messed up when I clamped it. That's it. Next time I will put it back together again and see if I have fixed the buzzing problem.
I only spent an hour on this step. Most of the time was spent waiting for the finish to dry.
[Home]
[Prev]
[Next]
---
This web site and all of its content, text and images are Copyright © 2007 - Brian S. Kimerer
All rights reserved.
Last updated December 2, 2007