Gourd Banjo
Photos
[Home]
[Prev]
[Next]
This page is a photo album of the finished banjo. Click on the photos to obtain a larger and more detailed version of the image. On some of the images, you can see a 3D version of it by clicking on the 3-D link below the image.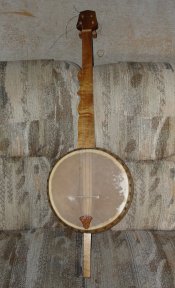 Front of Banjo
3-D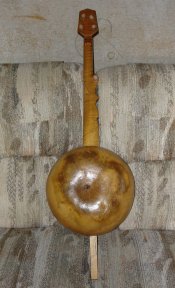 Back of Banjo
3-D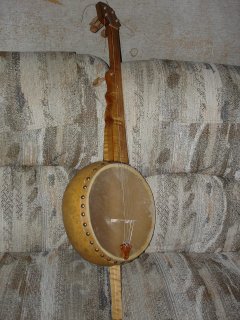 3/4 View of the Banjo
3-D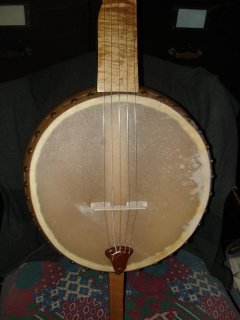 Pot of Banjo
3-D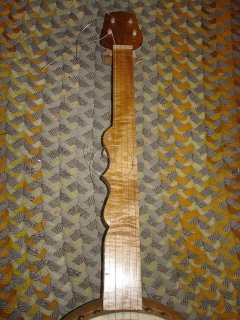 The Neck
There is some really nice figure in the fingerboard. The photograph does not do it justice.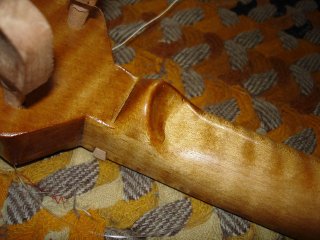 Handstop of Banjo
3-D
I am not sure what to make of that nutty handstop. It is not very attractive. It looks very "organic" though. It does stop my hand.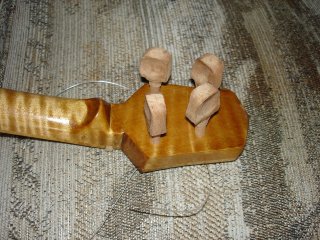 The Pegs
3-D
[Home]
[Prev]
[Next]
---
This web site and all of its content, text and images are Copyright © 2007 - Brian S. Kimerer
All rights reserved.
Last updated December 2, 2007