Gourd Banjo III
Making the Other Tailpiece
[Home]
[Prev]
[Next]
There is another part to the tailpiece on my banjo. That is the part that goes horizontally over the head that the strings are tied onto. I made that part out of black walnut. I had a piece of wood left over from the previous banjo that I used.
But first I stained the tailpiece that I made yesterday. Yesterday evening I went out to the shop periodically to wet sand the tailpiece. This morning it was all ready to go. I want it to be the same color as the rest of the maple, so I got out my staining stuff.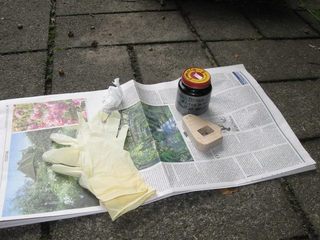 This was a quick job because it was just the one small piece. Here it is all stained.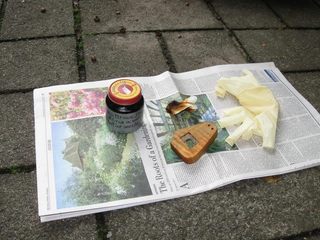 OK, back to the tailpiece. Here is the piece of walnut that I had used last time.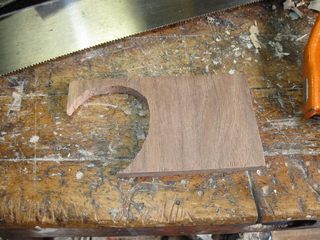 You can see where I cut out the other tailpiece. There should be enough wood on the right side to get this new one. Before I started cutting I smoothed off the board using the card scraper.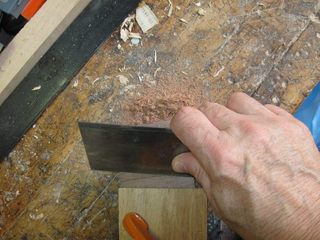 Then I drew in a basic shape. I wanted to make a shape that is similar to the shape of the peghead like I did on the other tailpiece.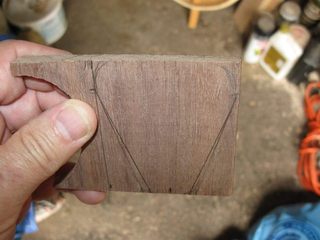 That is about as close as I can come given the shape of the piece of wood. I need to leave enough space at the wide end for the string holes. I sawed the shape out with the coping saw.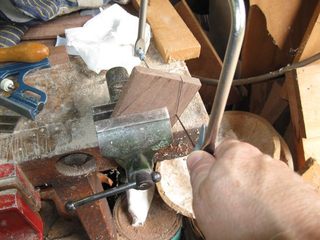 Here it is.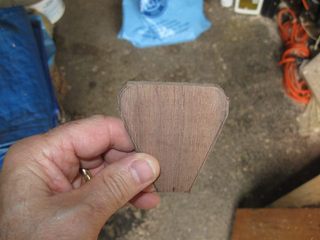 I carved it to its final shape with the rasp etc. and marked it for the string holes.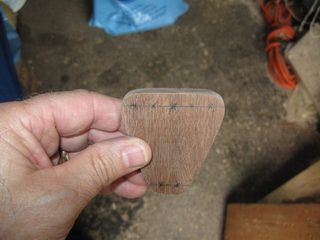 The holes are 3/8" apart and 1/4" from the top edge of the wood. I could not figure out a way to cut a notch in the tailpiece without compromising the spacing of the holes or their balance. So I decided to keep the piece symmetrical.
Clamped to the bench.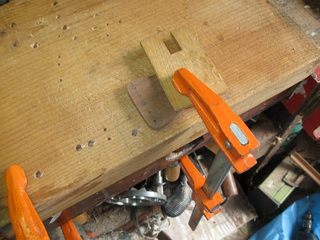 I drilled the holes using a 7/64" drill bit. I don't remember where that number came from. I used it last time so I used it again. I chamfered the edges of the holes with a 3/16" drill bit by holding the bit in my fingers and gently twirling it in the holes. Then there was the usual sanding etc.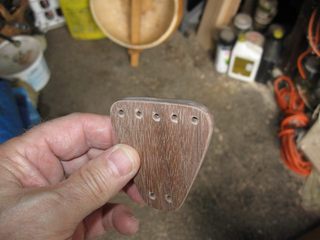 While I had the sandpaper out I did some more sanding on the peg buttons. I had shaped them previously, but they also needed to be finish sanded. After the banjo is done I will put some finish on the buttons, although not on the shafts. The shafts have to stay unfinished in order to work properly.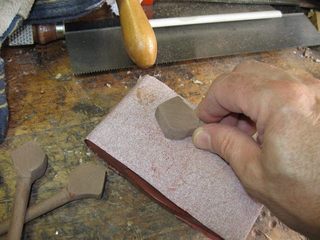 I spent another 3 hours today. It seems like a lot for such small progress, but sanding all those small parts takes time.
[Home]
[Prev]
[Next]
---
Original post date July 28, 2009
This web site and all of its content, text and images are Copyright © 2008 - Brian S. Kimerer
All rights reserved.
Last updated August 5, 2009