Bob Flesher Minstrel Banjo Kit
Staining
[Home]
[Prev]
[Next]
While I was drilling out the neck to screw it to the pot I noticed that there were some areas on the fingerboard that I had not sanded properly. I could see some scratch marks that were made by whatever tool was used to flatten the fingerboard. So I got out my sandpaper again went after it until I could not see those marks. Once the stain hits the wood, any scratches in it will darken and show up.
The sanding is done. Now for the stain. Staining is something that provides instant gratification. One minute you have a plain, pale banjo and the next you have a dark and totally different banjo. However, staining works on furniture, clothing and body parts as well, so care is advised in the handling of the stain.
The kit comes with a small bottle of stain to make the wood darker. Stain, in general, is a mess to deal with. In fact, when I pulled the bottle of stain out of the box that the kit came in, here is what I found: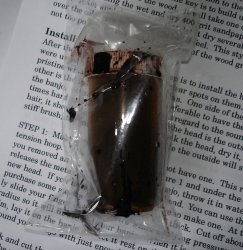 Yuk! What a mess! If you get this kit, you might consider pulling the bottle of stain out of the box right away and standing it up somewhere so that it will not leak.
I had left the bottle upside down and sideways in the box for a couple of months, and it appears that the bottle is less than leak proof. Fortunately, the bottle of stain was double bagged, and no harm was done. A lot of thought has been given to the details of this kit to ensure a happy outcome. Kudos to Dr. Horsehair for this one.
Some words of advice are:
Wear gloves
Work fast but in control
Watch where your hands and feet go so that you don't spill the stain
I do not have many photos of the staining process because I had to work fast, and I need all three hands (my wife helped) to get it done with no spillage, runs, or spots. Anyway, here is a "before" picture: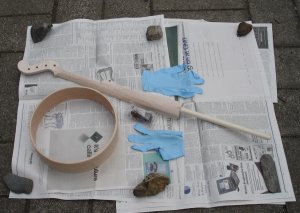 And here is the "after" picture: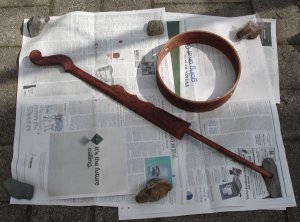 Different banjo.
This was advertised as "amber" stain. It looks pretty dark to me for amber, but it isn't bad. The banjo is now a lovely brown color, which might not come through in the photographs. I was thinking that I might have to do more than one coat to get the banjo dark enough, but that clearly will not be necessary.
I used about 75% of the stain in the bottle. So there was plenty to do the job, but don't spill any. Here is a photo of the banjo stained and screwed together.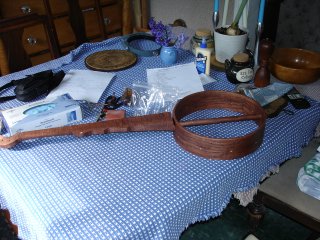 It took me about an hour to do this part, if you include the extra sanding.
[Home]
[Prev]
[Next]
---
This web site and all of its content, text and images are Copyright © 2006 - Brian S. Kimerer
All rights reserved.
Last updated April 18, 2006