Gourd Banjo
Cutting The Back
[Home]
[Prev]
[Next]
The back of the neck is still stair-stepped from the fact that I had to glue up some boards to make the blank. Now it is time to cut the real slope of the neck.
I just took my ruler and drew a straight line onto the straight side of the neck. I am going to cut the line straight across and then add any curves using the rasp later. Hogging out the wood in a curve will take forever. Here is a photo of the line to which I will cut the board.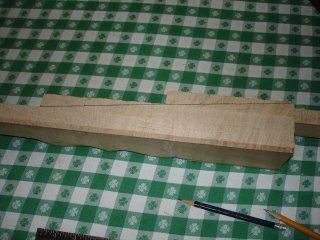 Just to be safe, I also attempted to draw the line on the curvy side of the neck. That was a bit more of a guess compared to the straight side, where I could lay the ruler right down on the wood. Here is a photo: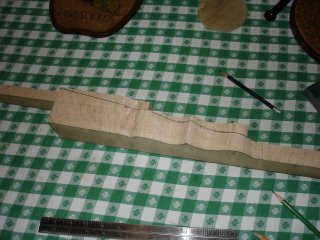 Ok. Here is the neck all clamped up in my Workmate®.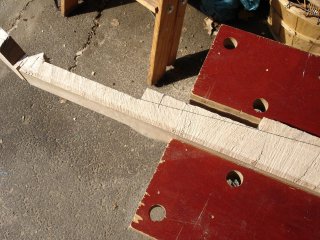 There is no way I can get a saw blade started in the notch down by the peghead end. I will have to hog out some wood before I can start cutting. I took my panel saw and cut some notches out.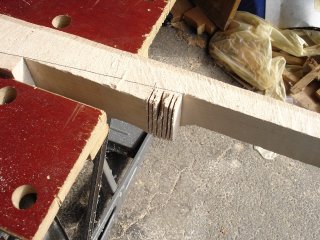 Then, I took my chisel and broke out the pieces.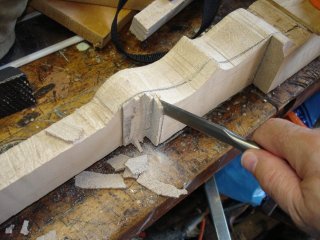 Now I have enough room to get the narrow blade of my compass saw in there to start cutting.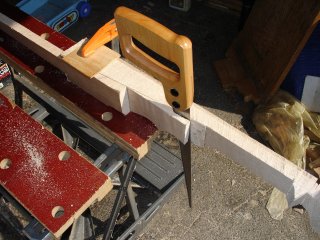 In the photo below I have finished cutting off the first block of wood.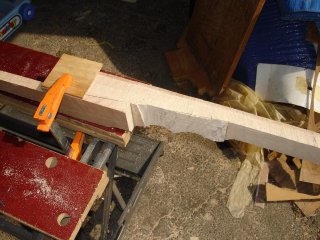 Man! That is one nasty cut! I guess it will take a while to clean that up once I start carving the neck. Yuk! But at least now I have enough room to get the blade of my large rip saw in there. The rip saw should cut a bit faster than the little compass saw.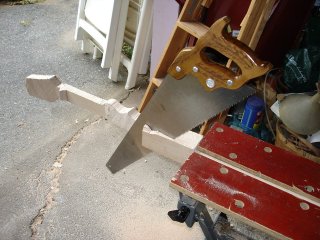 After I got done ripping the chunks off of the back of the neck, I took a chisel and cleaned up some of the leftovers where the saw just broke the pieces off.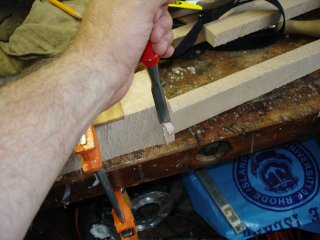 OK. Here it is.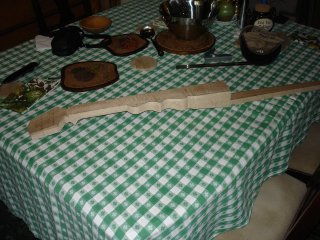 The neck is still square in cross section, but it is looking more like a banjo neck each time I work on it. Cutting out the back of the neck took me about 2 hours.
[Home]
[Prev]
[Next]
---
This web site and all of its content, text and images are Copyright © 2007 - Brian S. Kimerer
All rights reserved.
Last updated December 2, 2007