Gourd Banjo II
Last Two Gourds
[Home]
[Prev]
[Next]
It is the next day, and I have come to the conclusion that I have to do something to save my gourds. I suspect that the other two are also rotting and will not last until next year unless I stop the rot. So today I am going to cap and clean the last two gourds. Here are all of my remaining gourds.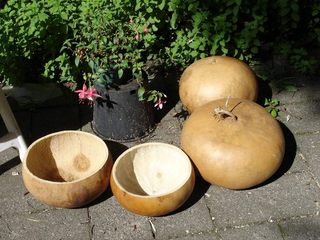 I did not take many photos today because you have seen it all before, so this page is just a brief overview for continuity.
I sharpened my scraper.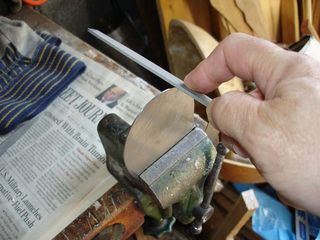 I drew lines around the gourds.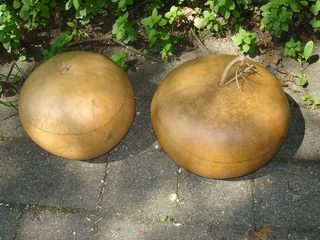 I cut the tops off. Here's the guts.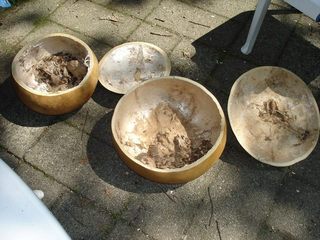 Three hours later, the gourds are clean.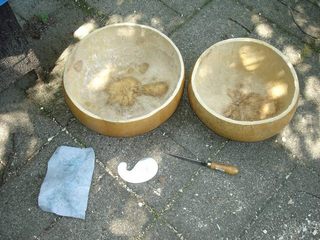 I soaked them with bleach and put them out into the sun with the other two to dry.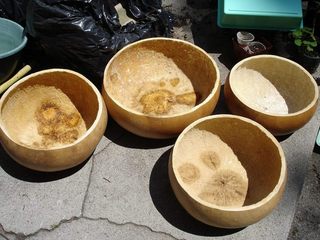 That large gourd is huge. The hole across the top is 14" across. That one will make a bass banjo. I packed them up in pastic bags filled with newspapers to see if that will help deodorize them further. Now they go into the garage for another week. Here they are:
That's it for this week. It wasn't very exciting, but I had to do it. Next week I will take them out of the bags to see how they are doing. Then I will spray the insides of them with clear acrylic spray to seal in the odors and seal out the bugs and spores. Maybe then I can get back to putting the tail of the neck through the gourd.
I spent about 3 1/2 hours doing the gourds today. The sun was shining, and the air was cool and the work was mindless, so I had a good time in spite of the tedious nature of it all.
[Home]
[Prev]
[Next]
---
Original post date July 14, 2008
This web site and all of its content, text and images are Copyright © 2008 - Brian S. Kimerer
All rights reserved.
Last updated July 27, 2008